Hiking Traces of Slavery in Utrecht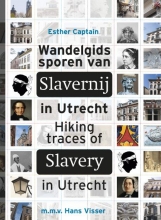 In 2012, the Walking guide Traces of Slavery Utrecht was published as part of the project Traces of Slavery Utrecht, a partnership between the Centre for the Humanities, Vrede van Utrecht and Kosmopolis Utrecht. The guide is written by Dr. Esther Captain and Hans Visser
In the guide, the relationship between the history of the Dutch-Indies, Suriname and the Dutch Antillies/Aruba is highlighted. With references to actual (living) locations in the city and an illustrated map, you can walk past locations that have their history in the colonial past of the city.
The guide is for all who are interested in the colonial past of the Netherlands and the accompanying stories. Every story brings you back in time, from the 17th century until now. As such you can discover locations that are directly and indirectly linked to the slavetrade and Dutch slavery history.
The route can be walked by Dutch as well as English speaking visitors, since the guide is published in both languages. Every point can be a starting point, since there is no set route to follow. According to the map you can point out your own route.
Dr. Esther Captain is historica en werkt als onderzoeker bij het Nationaal Comité 4 en 5 mei in Amsterdam. Ze is tevens verbonden aan het Centre for the Humanities van de Universiteit Utrecht. Hier houdt ze zich bezig met het project 'De koloniale erfenis van de Vrede van Utrecht', ook wel afgekort als 'het slavernijproject'. Haar specialisme is het erfgoed van de Tweede Wereldoorlog in de overzeese gebieden en meervoudige, postkoloniale herinneringsgeschiedenissen. Zij publiceerde onder andere Oorlogserfgoed overzee. De erfenis van de Tweede Wereldoorlog in Aruba, Curaçao, Indonesië en Suriname (Amsterdam: Bert Bakker, 2010).
Dr. Hans (J.J.) Visser is (gepensioneerd) historicus en cultureel antropoloog. Hij werkte tien jaar als docent en zendingswerker in Zambia en Kenia. In Nederland was hij docent en rector aan het Hendrik Kraemer Instituut, het opleidingsinstituut van de Protestantse Kerk in Nederland. Visser is adviseur van de migrantenkerken in Nederland en gids bij het project Kerken Kijken Utrecht. In het kader van het project 'Sporen van slavernij in Utrecht' verrichtte hij historisch onderzoek naar de aanwezigheid van de eerste Afrikanen in Nederland.